If you're life is anything like mine, things are starting to get busier right about now. The month of March means Spring is on the way and we're one step closer to Spring break, but it also means an influx of speech referrals, IEP meetings every-other-day, progress reports, state testing, and tons of extra things each week as the school year starts wrapping up. While I love March, it can get especially difficult to plan meaningful and engaging therapy sessions by this point in the year. Enter Five Saint Patrick's Day Activities for Speech Therapy!
Below are 5 super easy activities for Saint Patrick's Day that you can whip up in just a few minutes, but that are guaranteed to keep your students excited and engaged the entire therapy session.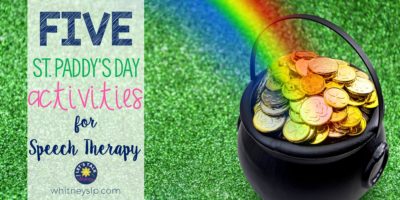 Five Saint Patrick's Day Activities for Speech Therapy:
1. Saint Patrick's Day Books.
You all know how much I can't live without books in therapy. On days when I'm running from one side of the school to another, when it's pouring down rain, when the copier is broken, when I've been out sick, or just when I've had no time to plan, I can grab a book and still have an incredibly meaningful and rigorous therapy session targeting ALL student goals with just that one book and nothing else. It doesn't matter if it's below that child's reading level. In fact, I've found that my 5th graders get extremely excited about reading picture books as we work on their goals. You can use books to target just about anything, including comprehension, sequencing, story grammar, story retell, vocabulary, expanding utterances, joint attention, and so much more. Click here for a post on my favorite Saint Patrick's Day books and what I use them to target!
2. A Simple Saint Patrick's Day Craft.
Crafts just don't get any easier than this one. I saw this idea from my friend Jenn from Crazy Speech World. She's a speech crafting genius. Simple use the die-cutter to cut out shamrocks. If you don't have a die-cutter, just find a template online and cut them out (or if you're super fancy, you can use your Cricut or Silhouette machine). Then cut strips of colored paper. Have your students choose several colors and glue or tape them to the back of the shamrock so they look like a rainbow. Then, depending on your students' goals, use them to target the required skills for the day. If you're student is working on articulation, write words with those sounds in them. (for sentence level, have them use the words in a sentence). For students working on categories, write a category on the shamrock and have them fill the colored strips with items for that category. There are so many ways to use this simple craft and still get your drill work in.
3. Lucky Charms.
That's pretty much enough said, but for any of you out there who don't love snacking on rainbow and pot of gold shaped marshmallows, I'll elaborate a little more. By this point in the year, there's no shame in my game when it comes to bribery. And everyone knows that food is a really good bribe. In all seriousness, you can do so much with just one box of the magically deliciousness called Lucky Charms (see what I did there?) in addition to using them as reinforcement. Categories, describing, five senses, sorting, matching, counting, graphing, requesting, social skills like sharing, expanding utterances, increasing MLU, receptive and expressive vocabulary identification, etc. etc. etc. So grab a box or two and let your students play with their food before they eat it. (Just make sure you have permission to feed them and they're all allergy-free.) If you're not allowed to do food at your school, I suppose you could just play and then toss them, but that just seems like torture. 😉
4. Make a Green Sensory Box.
Ok, I'll admit. I'm pretty excited about this one. Several years ago, I introduced sensory boxes into my therapy sessions for pre-school and some of my younger self-contained classrooms. My older students would come to therapy and have a fit to use them too. While I don't always use sensory boxes with the older kids, there is a lot to say for the excitement and engagement they bring. And usually when a student is that excited and engaged, a good bit of communication will follow. For Saint Patrick's Day, I threw together this "green" sensory box in about 10 minutes with items I already had in my therapy room and at home. If you do buy green things, I'd check out Dollar Tree first!!
It includes: felt foods (lettuce, broccoli, corn, green popsicle), a green gem stone, a turtle, a cactus, a grasshopper, an alligator, a chameleon, grapes, a monster finger puppet, a plastic hopping frog, small green dinosaurs, a green bowtie, a shamrock necklace, a green tugboat, and a green car. For the filler, I used green Easter grass, pipe cleaners, and green pom pom balls. Feel free to add/take out anything you'd like!
5. Shamrock Shakes.
If you've never tried cooking in speech, you and your students are missing out! I realize that not everyone is allowed to have food at school, but if you are, I highly recommend it! I always make sure I have permission from the parents, but we've been cooking a lot this year thanks to Kristine from Live Love Speech's Cooking and Craft Visual Recipe Book.  It has been such a fun way to target skills like turn-taking, following directions, sequencing, comprehension, measuring, and much more. The students LOVE the cooking activities, and the Shamrock Shake lesson is no exception!
Bonus: Make a Leprechaun Trap!
I found these examples in the Target Dollar Spot this year, but they gave us some great inspiration! I had students and my own children look around the room/house for similar items they could use for leprechaun traps….and their creativity (and communication) really came out! Pair it with the book How to Catch a Leprechaun, and you have a complete therapy lesson (or several) right there!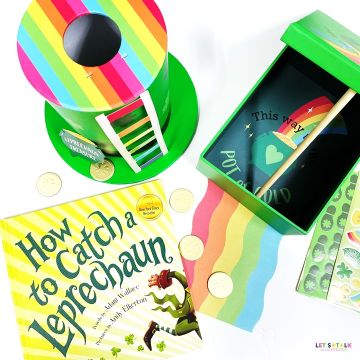 Extras:
If you do find yourself with a little more prep time, you might find these other activities useful for a Saint Patrick's Day theme as well:
The History of Saint Patrick's Day Comprehension Pack:
Saint Patrick's Day No Prep Speech & Language Unit:
Saint Patrick's Day Following Directions Boom Cards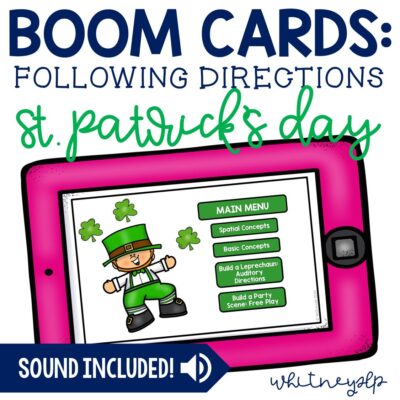 Feed the Leprechaun Articulation Boom Cards: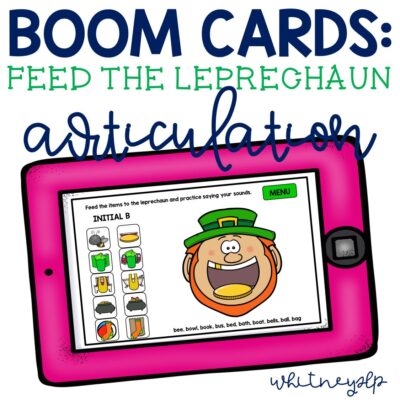 There Was An Old Lady Who Swallowed a Clover Boom Feed Me Freebie: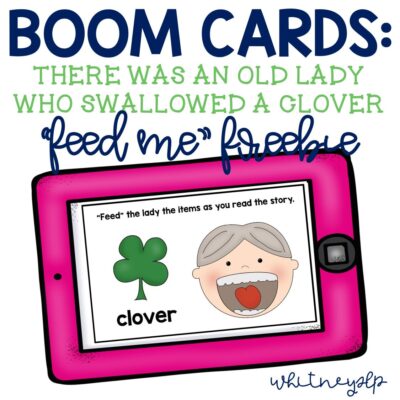 There Was An Old Lady Who Swallowed a Clover Mini Companion (Email Exclusive Freebie:) Download this in my freebies library. Don't have the password? Sign up for my newsletter to access this freebie and a whole library of other exclusive freebies just for those on my email list!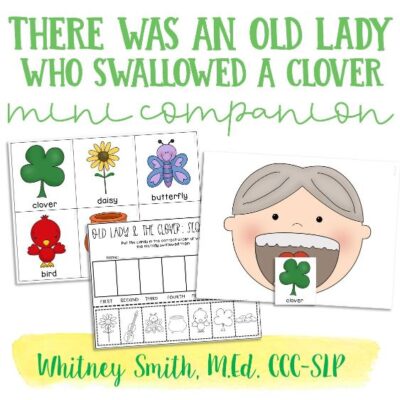 Saint Patrick's Day Shamrock Absurdities FREEBIE: 
Do you use a Saint Patrick's Day theme in therapy? Have you used any of these five Saint Patrick's Day activities for Speech Therapy? Which activities are your go-to's?